About Us
The area of activity: Movie industry
«FUTURA MAGNUM» LLC is a production studio, which specializes in the creation of movies, movie reels and clips. It organizes movie shootings and provides movie directing and producing. The head office is located in Russia, Moscow city. 2 full-length movies, a serial and a documentary movie have been shot.
The company became a part of the holding company in 2019. The portfolio of the studio includes a movie «One for a million». The movie is based on the real-life events of Saidmurod Davlatov and includes his childhood, youth and present days. All nuances of the path from a son of the shepherd to a multimillionaire are presented to the attention of the audience. The critical moments of the establishment as well as some details of the main hero's personal life have been covered. In the future, it is planned to shoot a movie about the business units of the UDI group.
The film «Fortuna» has received international recognition at the world first performance in Pusan, at the International Festival of Goa and at the International Festival of Calcutta.
7
cities of the first performance of the feature film «One for a million»
---
1.5mln
people have watched the movie
---
5
series of the serial «The path of the mentor» can be watched on the official YouTube channel for free
---
---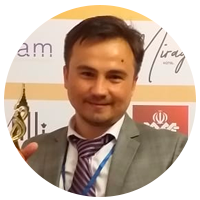 Stage director: Mukhiddin Muzaffar