About Us
The area of activity: Agriculture
«Khatlon» WDC unites manufacturers, sellers and buyers of food products on one platform. This platform provides new opportunities to run a business and optimizes the costs of every participant because, according to the statistics, up to 30% of agricultural products are lost in case of improper storage, packaging and transportation. Our center is engaged in growing, storing, processing, packaging and grading fruits and vegetables for export. It helps the local farmers to prepare products and documentation for export.
«Khatlon» center owns also pistachio and almond gardens and greenhouses "Pista Chios". The gardens are located in an ecologically clean area of Khatlon region in the south of Tajikistan. It shall be mentioned that this part of the republic has the most favorable climate to organize the agricultural activity.
The date of establishment is 2019. The project is long-term since the young plants will bear the first fruits in 6-8 years. In its turn, it is a highcalorific and dietary product, which is one of the most expensive at the global market. It is planned to increase the number of only pistachio gardens by more than 1,000 hectares by 2025.
200
employees work at the pistachio plantation
---
150т
per year is planned to be harvested
---
64ha
of land is used for pistachio gardens
---
---
Pistachio orchards is a long-term project of the UDI Holding
Production and processing of pistachios
Domestic sales and export of agricultural products to foreign markets
---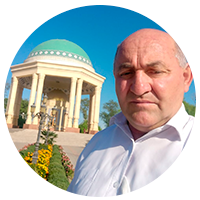 Head: Sharifov Mirsharif Kudratovich
Address: Khtalon region, Jaikhun district
CONTACTS:
TEL.: +992 929 229 363
Email: info@udi.tj