About Us
«SAMO» IHDC has been specializing in training programs in business, financial literacy, personal development and family relations improvement since 2007. The training is provided online and offline. The company successfully provides training in Russia, Ukraine, Kazakhstan, Kyrgyzstan, Uzbekistan, Tajikistan, Turkey, China and Malaysia, and holds one of the leading positions in the educational sphere of the CIS.
The author's developments of Saidmurod Davlatov are a finance management system and a table-top business game "Money and I".
The main difference of the center is the goal to create a new history in the development of civilization and to broaden humanity's consciousness.
The company has been faithfully following its own mission for 15 years: "To serve so that everyone, who comes to us, can gain financial stability, unravel his own wealth and fulfill his potential".
A license has been received in Kazakhstan to open the academy according to the authoring system of S.R. Davlatov, and in the near future, we will award state MBA diplomas in training business owners.
20
more than 20 franchisees
---
3mln+
the circulation of the books more than
---
---
Trainings for entrepreneurs
Learn to create a business that will work without you - enjoy the time spent with your family
Finance training
Manage your own and family budget competently - achieve financial stability and get rid of debts
Trainings for networkers
Learn how to build a strong team and avoid common network distributor mistakes - turn your actions into money
---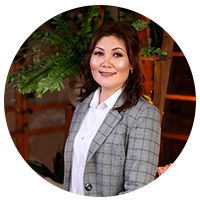 Head: Sagynalieva Lunara Myrzabekovna
CONTACTS:
Address: 113/2 Ibraimov Str., Bishkek, 720000, Kyrgyzstan
TEL: KG: +996 555 89 13 22
Email: info@worldsamo.com
Instagram:
@worldsamo